English offer
The more that you read, the more things that you will know. The more that you learn the more places you'll go – Dr Seuss
Intent
At Woodside Primary Academy, through the English curriculum, pupils are supported to develop the skills and knowledge that will enable them to communicate effectively and creatively; through spoken and written language and equip them with the skills they need to become lifelong learners.
Our intent for our pupils is that they learn to speak and write fluently so that they can communicate their thoughts, ideas and emotions to others. Through reading in particular, our pupils have a chance to develop culturally, emotionally, intellectually, socially and spiritually, from the extensive range of literature and educational experiences we offer.
At Woodside we understand how important the skills of language and communication are in supporting pupils to participate fully as a member of society. Our English curriculum is ambitious and the Woodside focus on Steven Covey's "Leader in Me (LIM) ", enhances the school's Life Values and the focus on being an independent learner; it provides a platform for all pupils to share their voice by taking shared responsibilities, read and write confidently for a range of purposes, to enable them to effectively participate in wider society
Aims
Our curriculum for English ensures that all pupils are exposed to the knowledge and skills necessary to:
Read easily, fluently and with good understanding
Develop the habit of reading widely and often, for both pleasure and information
Acquire a wide vocabulary, an understanding of grammar and knowledge of linguistic conventions for reading, writing and spoken language
Appreciate our rich and varied literary heritage, which is enriched with diversity
Write clearly, accurately and coherently, adapting their language and style in and for a range of contexts, purposes and audiences
Use discussion in order to learn; they should be able to elaborate and explain clearly their understanding and ideas
Are competent in the arts of speaking and listening, making formal presentations, demonstrating to others and participating in debate
Reading
Our reading programme is designed to enable pupils to acquire knowledge and to build on what they already know. Our aim is that pupils want to learn to read, and then learn to read through a systematic synthetic approach; moving on to reading to learn.
The teaching of reading is to be given a high priority by all staff. Success in reading is crucial in developing children's self – confidence and motivation to learn. We believe that success in reading opens doors to a world of knowledge.
Our Aims:
To develop a love of books and reading
To develop reading strategies and skills: fluency, accuracy, understanding and response to different texts
As a school we are proud to offer the pupils a text rich learning experience where imagination and creativity can be fuelled through role play, drama, filming and media.
Grammar and Spelling
Grammar and spelling at Woodside are intended to allow children to practise expressing themselves and communicate effectively and accurately, in order to make themselves clearly understood, both now and in later life.
As a school we recognise the importance of children being able to write legibly, fluently and at a reasonable speed is recognised. With these skills, children have a much greater chance of being able to reach and demonstrate their true potential throughout their school career.
Implementation
Planning
As a school we follow the 2014 Curriculum and the guidance from the EYFS (for our younger pupils), enhancing and adding to it to tailor it to our school's local context which ensures we are able to deliver (exceed) the National requirements in English.
In all areas of English, the objectives are used by year groups as a basis for their planning. These objectives are well sequenced and cumulative. The sequenced approach ensures that our pupils have the opportunity to remember and secure previous objectives before moving on. English sessions are based around a key text or experience with the aim to engage and inspire our learners.
The writing process is supported by a 'Talk 4 Writing' approach, whereby, pupils access and learn a wide range of quality stories, non-fiction texts and poems so that they internalise the structures and literacy language they encounter. They then draw upon these known structures in order to develop their own writing. This approach specifically enhances the learning for all our pupils, especially our EAL and SEND learners.
Termly
Pupils in the EYFS are assessed against the Development Matters (2021)
Reading tests from NTS (National Test-style Standardised Assessment) are used in Years 1 – 6 to assess children and to inform next steps and gaps.
Writing is moderated termly following the writing milestones – linked to the National Curriculum and Reach 2 objectives - with year 2 and 6 assessing against the end of their Key Stage framework.
The writing moderation process also takes into account gaps that need to be addressed in future planning and a great opportunity for staff to develop their discussion collectively of pupil's attainment and progress across year groups.
Early Reading
As reading is a complex skill with many components, at Woodside we have adopted a comprehensive and consistent approach to the teaching of these skills in school. The ability to read is fundamental to many aspects of life. In order to access the wider curriculum, children need to be confident readers who can understand, interpret and apply what they read in other areas of learning.
Aims
To deliver a structured and consistent whole school approach to reading (see Woodside reading overview)
To use a shared whole school systematic ( see RWI programme) approach to learning to read and reading to learn ( see Woodside guided reading programme)
To create a strong, embedded reading culture through a rich language environment within classrooms and through shared and guided reading
To read and enjoy a variety of texts form a variety of sources: library, class book corners, ICT, guided reading and class reader
To recognise the value of parents/ carers as essential components in supporting and developing children's reading skills and love of reading
To rigorously monitor and assess children's progress in reading and identify those who require extra support and intervene at an early stage
Writing
The writing curriculum at Woodside is well – sequenced to ensure pupils build up the skills and knowledge they need to become confident and fluent.
Our approach focuses on immersing pupils' in an experience or text, supported with discussion and key vocabulary and mnemonics, that serve them well when it comes to write. The core text outlined in our whole school writing overview and our Topics are used to plan exciting units of work. The school uses a "Talk for Writing approach" to provide a clear framework to support pupils in structuring a clear writing journey.
Woodside Writing Journey
Immersion, modelled, shared and guided
Immersion in the genre to be written about through: discussion, shared reading, drama, role – play and experiences
Modelled Writing - where the teacher models and highlights the strategies used by successful writers.
Shared Writing – a teacher – led, whole – class or group activity which draws pupils into the writing process.
Guided writing – where pupils use their new skills to complete the writing task in pairs or a group, focusing on particular targets and analysing their progress through teacher guidance.
Early Writing
In the EYFS and for pupils still at the early stages of writing (missed opportunities/SEND/new to English), they start their writing journey through a systematic approach of exploration of writing through:
Exploring environmental print
Stories
Role play
Mark – making
Displaying their ideas for writing through pictures and drawing
Phonics (RWI)
Writing is also incorporated into their play experiences and then through more focussed structured sessions of shared and guided writing approaches.
Handwriting
There is strong focus form the early years on building up those fine muscles by providing a wide range of activities that aid a strong grip. Teachers are aware of good posture, correct pencil grip and the strategies for left hand writers.
We teach handwriting according to the Nelson handwriting scheme. Pupils learn the letters of the alphabet in families, according to letter formation. Teaching focuses on correct formation of letters and all pupils are expected to take pride in their work. Pupils are encouraged to use exit strokes in preparation to join up their writing, always ensuring they can use ascenders and descenders correctly (refer to handwriting policy for further information).
We offer a range of interventions for pupils who are struggling at different stages of their handwriting such as: time in class writing areas, activities to build up fine motor skills / co ordination
Spelling
Spelling across KS2 builds on spelling and phonics from KS1, whilst also offering the opportunity for revisiting in areas of weakness
We teach spelling according to the Rising Stars scheme. The approach to teaching spelling is progressive throughout the school and the curriculum in order to reinforce techniques and demonstrate the importance that spelling should be given in the creation and presentation of all writing. Spellings for each year group are taken from the National Curriculum (see separate Phonics policy for Reception and Year 1), and reinforced with a clear understanding of the most common spelling rules and exceptions within the English language.
Grammar, Punctuation and Vocabulary
At Woodside, grammatical knowledge and terminology is introduced from an early age and is constantly revisited and developed in how it is applied to writing, so that children can begin to use their knowledge to make stylistic choices and become confident in how they talk about their linguistic structures, Foe some children, spelling and grammar may be tailored specifically to meet their needs, but still with a view that all reasonable efforts will be made to allow all children to access age – appropriate objectives.
Teachers understand, teach and demonstrate in their everyday practice the formal conventions of Standard English language. They emphasise their importance to meaning and effect. Teaching in all areas forms part of everyday English lessons, whether discrete or in active context and is developed across all areas of the wider curriculum.
Spoken Language
At Woodside, we believe that speaking and listening form the foundations of all learning in English. In formal and informal situations, we create and facilitate opportunities for conversation, discussion and talk around learning. Questioning forms the basis of teaching and we strongly encourage pupils to be inquisitive and to share their thoughts confidently in a supportive environment.
Foe our youngest pupils and for those at the early stages for speaking, teachers spend time repeating, rephrasing and narrating pupils play experiences, to ensure pupils progress quickly and securely.
Assessment
Termly reading tests form NTS (National Test – style Standardised Assessment) are used in Years 1 – 6 to assess and to inform next steps and gaps. Writing is moderated termly following the writing milestones – linked to the National curriculum and Reach 2 objectives – with year 2 and 6 assessing against the end of their Key Stage framework.
Our children within the EYFS are assessed when they start school to form a Baseline and then termly in line with the rest of the school. We use the Development Matters guidance (2021) to support assessment as well as practitioners' knowledge of child development. For pupils identified with SEND or who cannot access the curriculum in Y1 – 6 they are assessed against the Engagement model or the pre Key Stage standards to assess their attainment and progress.
The writing moderation process also takes into account gaps that need to be addressed in future planning and a great opportunity for staff to enhance their subject knowledge through collective discussion of pupils' attainment and progress across year groups.
Impact
Pupils at Woodside make exceptional progress from their low starting points evidenced by EYFS, Y1 Phonics, and KS1 and KS2 attainment levels and progress measures.
At Woodside all pupils have the potential to succeed. To meet the needs of our most vulnerable pupils, we place a strong emphasis on the core skills of spelling, handwriting, vocabulary, grammar, punctuation and composition where pupils are taught and supported to articulate ideas and structure them in speech and writing. The learning provided for all pupils, including the most able, is consistently demanding in order to ensure that all pupils develop cumulatively sufficient knowledge and skills for future learning and employment. Our curriculum for English provides progressively deeper access to the wider curriculum, as they move through the school. This can be seen in how well pupils apply their English skills and knowledge in the wider curriculum.
The school's robust monitoring and evaluation cycle, and approach to CPD, provides a strong measure of individual pupil success (those pupils working on small incremental steps form an EHCP / SEND plan) and a whole school overview of the impact of our English curriculum through:
Collaborative teaching triangles (CTTs) to develop teaching, subject knowledge, peer development
Whole year group planning to ensure consistency, improve subject knowledge, accelerate progress
Regular moderation
Monitoring of book and planning
External moderation exercise (Academy cluster model/Local authority)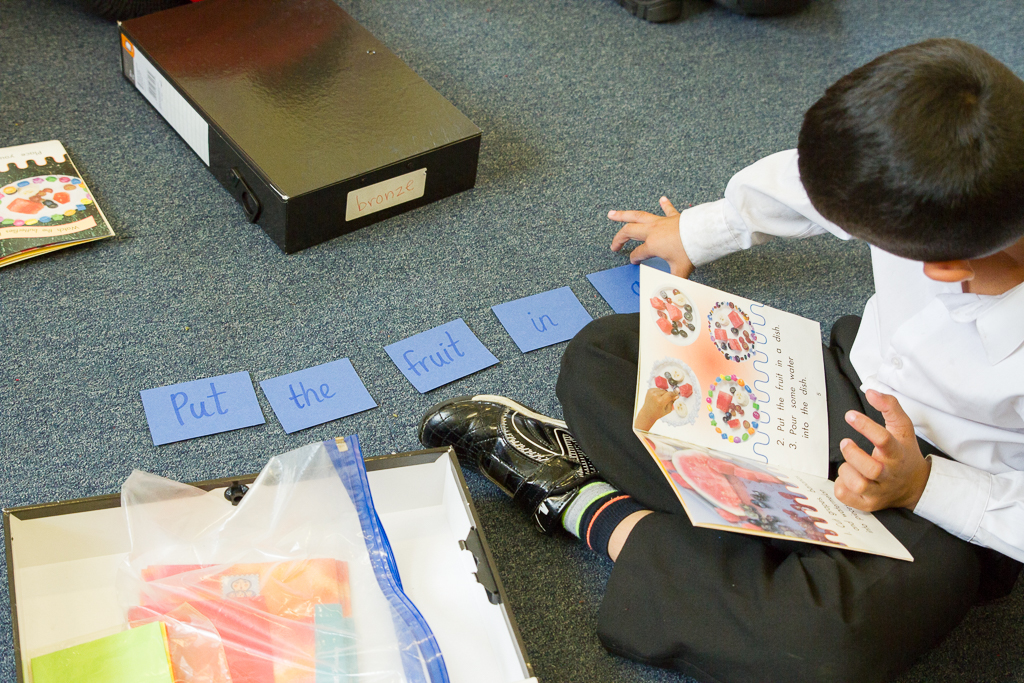 Reading
One of our main aims is to foster the enjoyment of reading for pleasure at Woodside. Interactive and stimulating book corners can be found in every classroom and pupils are offered a diverse and rich range of reading materials. Guided reading is taught every day across the school. In KS1, various reading schemes are banded into the colour book band system and multiple copies of the same text are used during guided reading. Whenever possible, children are given texts that are related to their topic. For example, year 3 could read information about the rainforest which will support their writing and topic work.
Teachers promote the enjoyment of reading by reading to their class on a daily basis. Children will also be given the opportunity to visit the local library to promote a love of reading throughout the year. The celebration of World Book Day creates a focus for promoting reading across the whole school.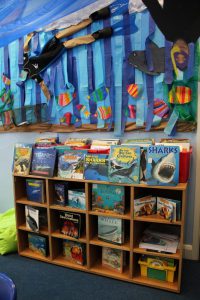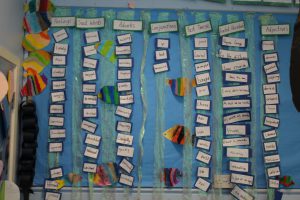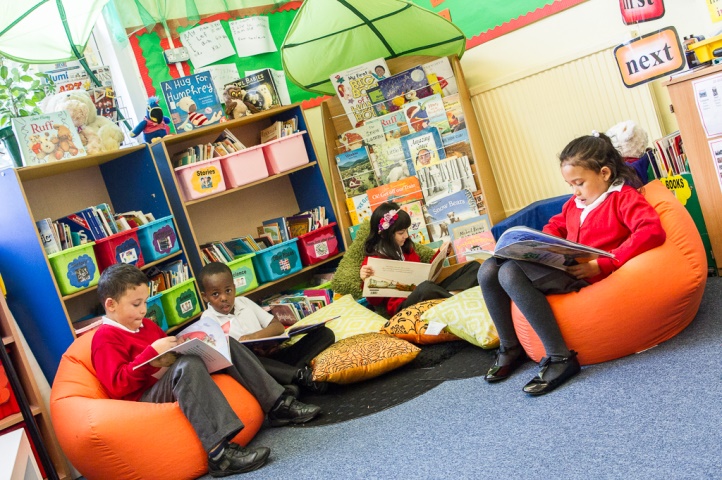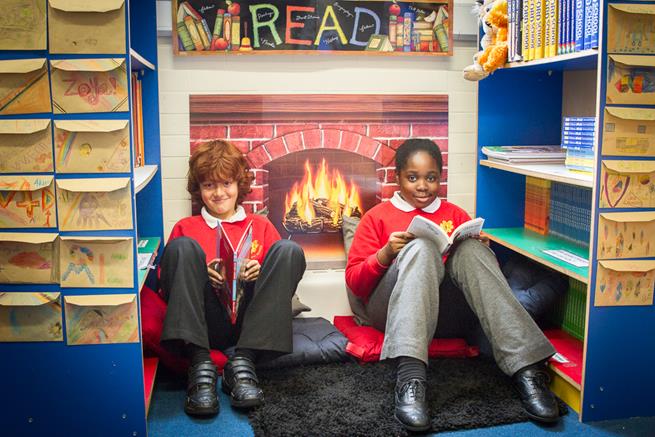 Phonics
We aim to ensure that all children have proficient word reading skills by the end of Key Stage 1. We have a systematic approach to teaching phonics. We follow the Read Write Inc approach which starts in Nursery and continues throughout Key Stage 1. Children are grouped according to their ability and are streamed across the year groups and each group follows the group appropriately matched to their level of ability. Children are regularly assessed to ensure they are making the expected progress.
The expectation is that children have mastered phonics by the end of year 2. However, if necessary Phonics is taught in KS2.
Phonics Screening Check
At the end of Year 1, children will undertake a statutory phonics screening check. This is a short assessment to make sure that children have learnt phonics to an appropriate standard. There are 40 words in the screening check which children are asked to read on a one-to-one basis with their teacher. The check is made up of 'real words' (eg. 'mud') and 'non-words' (eg. 'splog') and children need to apply their phonic knowledge to read all words. Year 1 children who do not pass the Phonics Screening Check will have to retake it in year 2.
Preparation for the check takes place during the daily phonics session but you can help your child at home by practising phonics on a regular basis. There are lots of books, games and apps that support Phonics. Below are some websites that you could use.
Oxford Owl Reading. click here
Articulation of Phonemes. Click here
English Working Wall
The classroom walls are a great way to support learning. When a teacher has showed the children how to write, the example will go onto the wall so children can refer to it throughout the lesson. Working walls are kept updated regularly and reflect current learning. The children are trained to refer to them to support their learning.
Writing
We provide a wide range of opportunities for children to write for different audiences and purposes. The curriculum is taught through termly topics and writing is linked to these topics, ensuring it is has a meaningful context.
In line with the Leader in Me programme, children are taught to be responsible for reflecting on their writing. Self-evaluation and partner conferencing is used to improve their writing. Children use green pen for these corrections.
Children have up to three targets which are stuck in the back of their books. These targets are agreed with the child and monitored during weekly conferences.
Some writing will be published and displayed around the school for everyone to share and celebrate.
Published writing
Marking Writing
Teachers mark children's writing using the codes below. They highlight three positive aspects with a yellow highlighter and select one improvement which is highlighted in pink. For longer pieces of writing, Steps to Success are stuck into the books and children self assess as they write.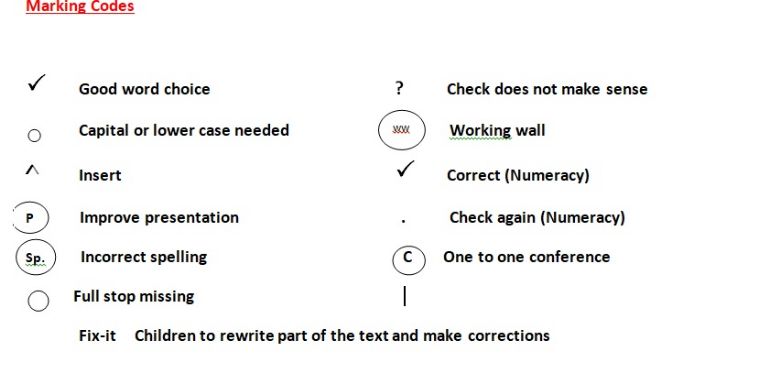 Teachers will check for the following before they comment on other skills. The key skills must be mastered by all children.
Capital letters start a sentence and are used for proper nouns
Full stops end a sentence
Sentences must make sense
The tense must be accurate
Statutory guidance
National curriculum in England: English programmes of study. Please click here
Literacy though ICT
Walthamstow Library's website. Please click here
A fantastic website with lots of free resources for supporting reading at home. Please click here
Another great place to go for recommendations of books and lots more. Please click here
Another fantastic website with recommended books for each year group. Please click here
Another place to find reading lists, advice for reluctant readers and much more. Please click here
A bookshop that specialises 'in books in which all children can see themselves and which reflect our world community in all of its diversity' Please click here
Crickweb. free online education resources & games. Please click here
http://www.bbc.co.uk/bitesize/ks2/english/
Click here